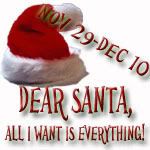 EnjoyingTea.com
offers not only a large selection of teas, tea cups, tea pots, and accessories, but you can also find interesting facts about tea! The site also helps educate you about the benefits of tea and gives a great description of each variety of tea from flavor to where it's grown to any known health benefits from a particular style of tea. Although I drink tea, I haven't spent much time educating myself of the varieties of tea available, so I found this part of the site really helpful!
We received the
Smart Tea Maker
and the
Top Seller Tea Sampler
for review and I was so excited that I would have sampled every tea the night it arrived except I knew I would have been up all night! Overall our favorite teas were the Vanilla Chai and the Jasmine Dragon Pearl. When brewed the Pearls opened like blooming flowers!
A Little Bit About The
Smart Tea Maker
:
An excellent tea maker that is practical and simple to use. Made of durable food grade plastic. Stainless steel filter included. Dishwasher Safe. Approx capacity: 600ml (20.4 fl oz). Basic Instructions: 1) Place tea leaves in the Smart Tea Maker. 2) Add boiling water. 3) Steep tea to your taste. 4) Place the Smart Tea Maker on top of a cup or mug and let the tea drain into the cup. 5)Remove the Smart Tea Maker to stop the flow. Your tea is ready to serve.
So is it really that "smart"? Well, it truly is as easy as it says! When we first took the Smart Tea Maker out of the package, did a quick read-through of the instructions, we were set to try the Vanilla Chai. The Smart Tea Maker was amazingly easy to use and I was thrilled at how inexpensive such an ingenious way to brew loose tea was on sale now for only $12.98! Plus, it's dishwasher safe and that's always a plus in my book!!!
Explore
EnjoyingTea.com
to find out about the large variety of teas offered and purchase a sampler if you're unsure what you might enjoy! The Smart Tea Maker is on-sale right now and they also have a lot of holiday specials ongoing, so you should really check out the site!
Win It - Giveaway Details!
One winner will win a Smart Tea Maker! This giveaway is open to US Only and will end on December 18th at 10:00PM Central. I'll email the winner who will have 48 hours to respond or a new winner will be chosen!
Visit EnjoyingTea.com and let me know what tea you might like to try or what tea you've never heard of but were surprised to learn of it's health benefits!
(If it states 2 extra entries, please leave 2 comments)
Follow me on Google Friend Connect (see right hand side bar) (+1 extra entry)
Subscribe to Two Monkeys & a Washtub by e-mail/
RSS feed
(+2 extra entries, you can do both)
Follow monkeyswashtub on
Twitter
(+1 extra entry)
Tweet up to 3x daily, must be 1hr apart, leave one comment with the link to your tweet (up to 3 extra entries daily):
Win a Smart Tea Maker @monkeyswashtub from EnjoyingTea.com *US*

http://goo.gl/fb/FiM1l

Ends 12/18!
Vote for me on the Fence (+2 extra entries daily)
Include the Dear Santa button (code on the upper left-hand side) on your blog's sidebar for 10 additional entries in every giveaway on every participating blog!
Disclosure: We received a the products mentioned above for review in exchange for our honest opinions. No additional compensation was received.