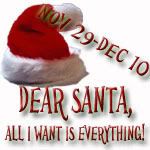 During the
Healthy Families, Happy Kids event, I reviewed
Music for Little People! We love their CDs and I can honestly say that I am truly jealous of whoever wins this amazing prize package of CDs! My kids love to get up and dance whenever
Music for Little People
CDs are playing and we take these CDs with us pretty much everywhere! Music for Little People definitely allows us to expose our kids to all different styles of music from across the world!
Sweet Slumbers
offers songs from many cultures including African, Cuban, Irish, Italian, British, Welsh, Japanese, Jewish, Shaker and African-American performed in a wide variety of musical styles including classical, folk, blues, country and much more. The delicate thread that holds all of these songs together is the sweet and gentle ambiance they share to create the perfect bridge to dreamland.
Giggling & Laughing
is a special 25th anniversary collection that brings together the funniest favorites in the long, rich history of Music for Little People performed by some of the most talented and funniest musicians around, a great addition to any family music collection. You can listen to samples of the music online for this one too!
Singin & Groovin
is a collection of 25 of the most singable and fun songs ever created! Chosen from our award-winning, platinum selling Toddler Favorites series, these timeless classics have inspired family sing-alongs and dance parties for generations. Unique arrangements with professional singers and an endearing children's chorus and styles ranging from Rock 'N' Roll, Blues, Hip Hop, Folk and Country, this collection is the perfect choice to bring music into your family! (AGES 2-7)
Pickin & Grinnin'
is a 25th anniversary special edition CD that includes vivacious vocals, dazzling guitars, dueling banjos and merry mandolins join together in joyous harmony! Experience the spirited performances of some of our country's greatest folksingers singing their favorite tunes especially for children. These award winning songs will inspire spontaneous singing and dancing and offer your family a rich history of this beloved style of American music.
Love & Peace
is a Special 25th Anniversary Recording that includes such names as Willie Nelson, Raffi, Laurie Berkner, Ladymith Black Mambazo, Faith Hill, Los Lobos & more. It's a collection of favorite songs from the over 120 recordings we have produced, with a myriad of styles and instrumentation, and some of the most magical musical moments from our rich musical history. Designed to inspire spontaneous sing-alongs and family dance parties, this is a special recording your family won't want to miss. 16 songs including Baby Beluga by Raffi, The Lion Sleeps Tonight by Ladysmith Black Mambazo, and La Bamba by Los Lobos.
World Travels
is a 25th Anniversary world music collection for a breathtaking multi-cultural adventure around the world! Classic tunes from Ireland, South Africa, France and Louisiana to Columbia, Mexico, Jamaica, Italy, Ghana, and many points in between. Featuring 15 songs from some of the world's most gifted musicians including multi-Grammy winner Ladysmith Black Mambazo singing The Lion Sleeps Tonight, renowned blues artist, Taj Mahal, performing Quavi Quavi, and the international acclaimed pied piper of children's music, Raffi, performing Like Me and You.
You can purchase CDs, child-sized musical instruments, and more at
Music for Little People
! If you've never visited their site, you really should, I think you'll be impressed with the selection!
Win It - Giveaway Details!
Visit
Music for Little People
and let me know something you learned about the company, a favorite product or what CD you think the little people in your house will love the most!
(If it states 2 extra entries, please leave 2 comments)
Follow me on Google Friend Connect (see right hand side bar) (+1 extra entry)
Like Two Monkeys & a Washtub on
Facebook
(+3 extra entries)
Like Music for Little People on
Facebook
(+2 extra entries)
Comment on the
Milkbone Bark it Furward Post
(+5 extra entries in all giveaways, only one comment please)
Subscribe to Two Monkeys & a Washtub by e-mail/
RSS feed
(+2 extra entries, you can do both)
Follow monkeyswashtub on
Twitter
(+1 extra entry)
Follow Music for Little People on
Twitter
(+1 extra entry)
Tweet up to 3x daily, must be 1hr apart, leave one comment with the link to your tweet (up to 3 extra entries daily):
Win a 6-CD MusicForLittlePeople Prize Pack @monkeyswashtub from @mflp_com! *US*

http://goo.gl/fb/VbqMI

Ends 12/16!
Vote for me on the Fence (+2 extra entries daily)
Include the Dear Santa button (code on the upper left-hand side) on your blog's sidebar for 10 additional entries in every giveaway on every participating blog!

Disclosure: This is a giveaway post online. Review products were received in connection with the Healthy Families, Happy Kids event! No additional compensation was received