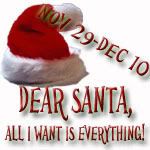 Sometimes you get a product for review that you love so much, you can't imagine not having it with you at all times! The
Travalo Atomizer
allows you to take your favorite perfume or cologne with you anywhere you go, even in your carryon luggage since it meets the stringent TSA requirements! It's easy to fill and fits in the palm of your hand.
Travalo

is made of light weight aircraft grade aluminum and contains no glass so you don't have to worry about dropping it! Travalo comes in different colors in case you want to take more than one scent with you too. The Travalo is only 3 inches long, but it holds over 50 sprays. What I loved about it is that it was so easy to fill. The internal pump system is amazing! You simply take the cap off of your cologne and place the Travalo on top and pump. The window lets you gauge how much you have inside the bottle. Travalo even won the

Cosmopolitan Magazine

2010 Beauty Awards and can be purchased at many major retailers including Target and CVS for ~$14.99 and online for $18.00 from the Perfume Salon.

If you're looking for a perfect stocking stuffer for either men or women, then you should definitely check out the Travalo...it's worth every penny!